Adjustable Seating Frame for 1 chair
Description
SINGLE-SITTING ADJUSTABLE PLATFORM
Made of smaller diameter tubes - takes less space inside the boat:
Outer tube: OD32x1.8 mm, Inner tube: OD25.6x1.6 mm
This adjustable aluminum frame-seating platform takes riding comfort to the next level. Now you can control your outboard engine, while a padded boat chair supports your back. After trying this new system, you'll never go back to a regular plywood bench.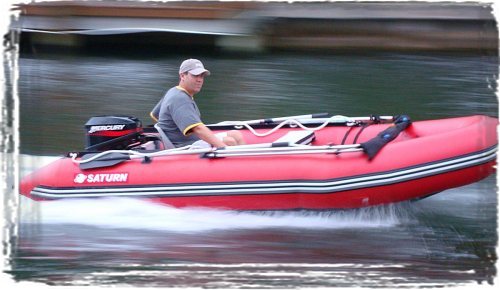 Due to the fact that this system is mounted to the floor and not to the boat tubes, vibration and bumps during a choppy ride are significantly reduced.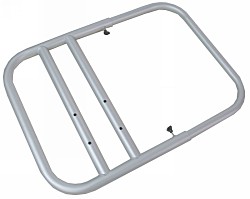 Holes in the aluminum frames are designed to match 7" economy boat seat pedestals that are sold in many retail stores such as Canadian Tire or Wal-mart. A swivel base and boat fishing chair with back support can easily be installed on top of the boat seat pedestal.
An Economy boat seat pedestal retails for around $12, a swivel base costs $8, and fishing chair prices can vary depending on comfort level from $20 to $45. You also will need stainless steel mounting hardware. Bolts with round heads should be inserted in the frame from the bottom up, so that the round head of the bolt touches, but does not scratch the floor.
The adjustable aluminum frame can fit any size boat from SD230 to SD470 and many other brands of boats on the market. It will work with air deck or hard deck boats.
Installation on air deck boat models. Click to zoom in.

Installation on plywood deck boat models. Click to zoom in.
The installation is simple. First, deflate the tubes and simply place the platform inside the boat. Then, push the adjustable components away from each other until the outer sides of the aluminum frame tubes touch the inside of the boat tubes.

Finally, tighten the screws and inflate boat tubes to squeeze the seating platform between the boat tubes. For boats with plywood floors, the platform will rest on the stringers.
PLEASE NOTE: boat chair pedestal, swivel platform, chair and hardware are not included, but can be purchased separately at many retail stores.
Sitting frame will extend from 29" to 44", fitting most inflatable boats with interior widths between those measurements. Will fit all Saturn models 8.6' length and up. Will not fit into KaBoats.
12' and 13' Saturn with a seating platform installed.

Single platform can be installed on any type of floors, air or plywood.

Plywood floor

Air Deck floor

Single platform can be converted into central console by welding L-shaped handle to support steering system. That can be done at any local welding shop. See drawing with dimensions for more information.
Technical specs
Reviews