Analog High-Pressure Electric Pump
Description
Analog High Pressure Electric Air Pump for Boats, Rafts, Kayaks and SUPs.
High-pressure GP80 analog air pump designed to work with optional external 12V battery, such as 12V car battery for example, or small 12V 7Ah or larger external battery. Simple design with manual shut off and affordable price. This pump purpose is to blow up inflatable boats, inflatable rafts, inflatable kayaks, inflatable SUP paddle boards with no effort at all.
Just press power on button 1 and see pressure raise on a built-in analog pressure gauge. Press power off button, to stop turbine pump mode and press button 2 piston mode and stop pump once desired pressure is achieved. Manually switch between fast fan inflation, and piston pump high pressure inflation.
Please note, this is not an automatic stop pump. There are no electronic pressure sensors inside. Simply watch pressure reading on a gauge, and manually switch between low and high pressure, and turn off when needed. Simple design means less parts to break and more reliable.
Analog Electric Air Pump is perfect product for:
Inflatable boats.

Inflatable rafts.

Inflatable kayaks.

Drop-stitch high-pressure air floors.

Inflatable stand up paddle boards.

Inflatable fenders, and many more inflatable products...
Optional battery: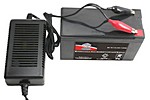 Internal battery NOT included with this electric pump model. This pump can be used with regular car battery, by opening hood, and connecting gator clips to battery terminals. Red to (+), Black to (-) .Or, pump can be used with a portable 12V 7Ah batteries along with wall charger. Batteries starting at $17. And, that is same battery that is inside our more expensive GP80BD pump. Sealed 12V 7Ah Lead Acid Batteries and Wall Chargers are widely available on Internet. Battery fit nicely inside pump pouch. Just remove battery from pouch and connect gator clips to it to run pump.
Specifications:
High-Speed fan and High-Pressure piston pump.

Manual stop when chosen pressure is reached.

Reliable design to reduce wear.

Gator clips for quick connection to the car battery.

All necessary adapters are included for pushpin type valves.

Warranty 90 days.
Without a high-pressure electric inflator, you'd have to use a hand pump for around 15-20 minutes, under the hot sun, which might not be exactly idea of fun. With this magic air pump, you will be ready to roll in under 10 minutes with no effort at all.
All high-pressure air pumps now come equipped with a set of generic plastic adapters designed to fit most of air valves on a market and specialized valve adapter designed to fit Saturn's valves. Choose correct adapter that will fit nicely into air valve, and will press pushpin down when inserted for proper inflation.
How 2 stage pump works:
When the pump starts it will be on a HIGH VOLUME (Turbine) pump until the pressure reaches 1-2 PSI. Then you need manually switch over to the HIGH PRESSURE (Piston) pump mode and inflate the boat to its set pressure. You will hear sound of pump changing significantly when piston pump kicks in. Once reaching the set pressure press power off button to turn off this pump.
Important warnings about High Pressure Analog Electric Pump:
CONNECT EPUMP ONLY TO FULLY CHARGED 12V BATTERY!

MAKE SURE VALVE PUSHPIN IS PRESSED DOWN WITH EPUMP ADAPTER.

DO NOT RUN EPUMP ON HIGH PRESSURE FOR LONGER THEN 15 MINUTES.

DO NOT DROP EPUMP ON HARD SURFACE OR SUBMERGE INTO THE WATER.

DO NOT LET SAND, DUST OR DEBRIS ENTER INSIDE AIR INTAKE.

DO NOT ATTACH ADDITIONAL ADAPTERS BETWEEN HOSE AND EPUMP.

MAKE SURE AIR IS NOT ESCAPING AROUND VALVE ADAPTER OR HOSE.

DO NOT OPERATE EPUMP IF IT IS HOT. LET IT COOL BEFORE USE.
Instructions for operation of High Pressure Analog Electric Pump:
AVERAGE AIR PRESSURE FOR INFLATABLES:
BOAT TUBES: 20KPA (25KPA MAX)

BOAT KEEL: 30KPA (40KPA MAX)

BOAT FLOOR: 60KPA (70KPA MAX)

iSUP BOARD: 70KPA (80KPA)

Out of the several included valve adapters, you will need to find one that fits tightly inside your air valve. The correct adapter should have a small perpendicular plastic piece that goes inside across the tube or will have 2 small tabs. This perpendicular piece or tabs are designed to press on the pushpin inside the valve to open valve and allow air to be pumped inside boat chamber. Try different adaptors to see which one fit better and can firmly press on pushpin of your air valve.

Before attaching the hose with the correct plastic valve adapter to your Saturn boat valve, please make sure that the pushpin inside the valve is in the upper, locked position. Air will not escape from a chamber when the pushpin is in the upper position.

Correct valve adapter for Saturn, Mars and AM boats already pre-installed on a pump hose. To install into valve, press hard on valve adapter and rotate clockwise, for adapter to latch to valve's pushpin crest mount. Rubber seal on valve adapter must to compress to have adapter latched to the valve. If difficult to latch, remove seal from valve, and flip it over, with grove facing outward. Squeeze seal few times to make it softer.

Insert the valve adapter connected to the electric pump hose into the air valve, so that the perpendicular piece or tabs presses the valve pushpin down, and unlocks the valve by letting air in. Once the chamber is full to capacity, you will quickly pull one end of the electric pump hose, and the air valve will automatically lock itself.

Never inflate air valve that is locked. This will burn pump very quickly and will void warranty.

When the boat is deflated, the high-volume air pump will start quickly filling the chamber up to 80%, and then the high-pressure pump will kick in to fill the boat to the setting of the air pressure dial. You will hear more louder noise once high pressure piston pump will start working. That is normal. The pump should stop automatically once the correct air pressure is reached.
Technical specs
Reviews
Required products