Floating Dock Container
Description
Floating Dock for Kayaks, Canoes, KaBoats, etc
New 2020 model made from thicker and heavier 1.5mm PVC dark gray fabric with non-skid surface.
Styrofoam dock for small watercrafts. Easily park your kayak, canoe, dinghy, KaBoat or small dinghy on a water.
This is a new product we have invented with a purpose to provide affordable docking solution for owners of kayaks, canoes, KaBoats, small inflatable boats and other small and light watercrafts, as well as work float platform.
Docking platform is provided in a form of heavy-duty outer shell container 8'x4'x10" made of tarpaulin PVC material. Customer can fill out this container with 4 (four) panels of Styrofoam or any other foam insulations sheets that are sold in many hardware stores, such as Home Depot or Loews. Outer shell has long and narrow opening to insert 8'x4'x2" foam panels one by one, and then securely lock it with Velcro.
Each dock comes with 4 D-rings installed at its edges, that can be used to secure watercraft to the dock,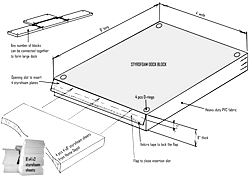 secure dock to anchor or stationary object, or to join several docking platforms together to form larger size docks. For example, 1 dock will provide enough support for 1-person kayak or canoe or up to 9' long inflatable boat or 15' KaBoat. For longer boats and larger kayaks, customers might use 2 docks joined together via D-rings and rope. You can add as many dock platforms as you need.
Docking platform with 4 Styrofoam sheet inside is rigid enough for small watercrafts. Additional plywood layer can be bolted through foam layers to make this dock suitable for heavier Jet Ski. Rollers, caster wheels and even trailer winch can be bolted on top of heavy-duty plywood to make pulling easier.
Original idea of that platform was to provide cheap and disposable docking for one season, so that at the end of Summer customer can remove Styrofoam from dock and dispose it until next season. However, after we tested this platform for almost 2 years in a salty water, under damaging Florida sun, it is apparent that platform is really heavy-duty contraption, and can withstand at least several years of continues use.
8'x4'x2" foam panels are available in local hardware stores. Prices between $15 to $25.
Technical specs
Reviews
Be the first to write a review
Write a review:
Required products