Hover Seat XL Attachment
Description
Deluxe Sitting Attachment for Hoverboards - HoverSeat XL™.
New hoverboard sitting attachment now comes with a built in comfortable chair!
Future of personal mobility has just arrived. Introducing HoverSeat XL - hands free, intuitive transportation device. Safely reach places too close to drive, quickly reach distances too far to walk. Zooming around in HoverSeat XL not only fun, but also gives liberating feeling of moving effortlessly to any directions you wish to go. No need for license, no need registration and no need for insurance. It's an ultimate urban transporter. Fast, efficient and totally green mini electric vehicle that is unique and distinctively looking. Turn attention anywhere you go!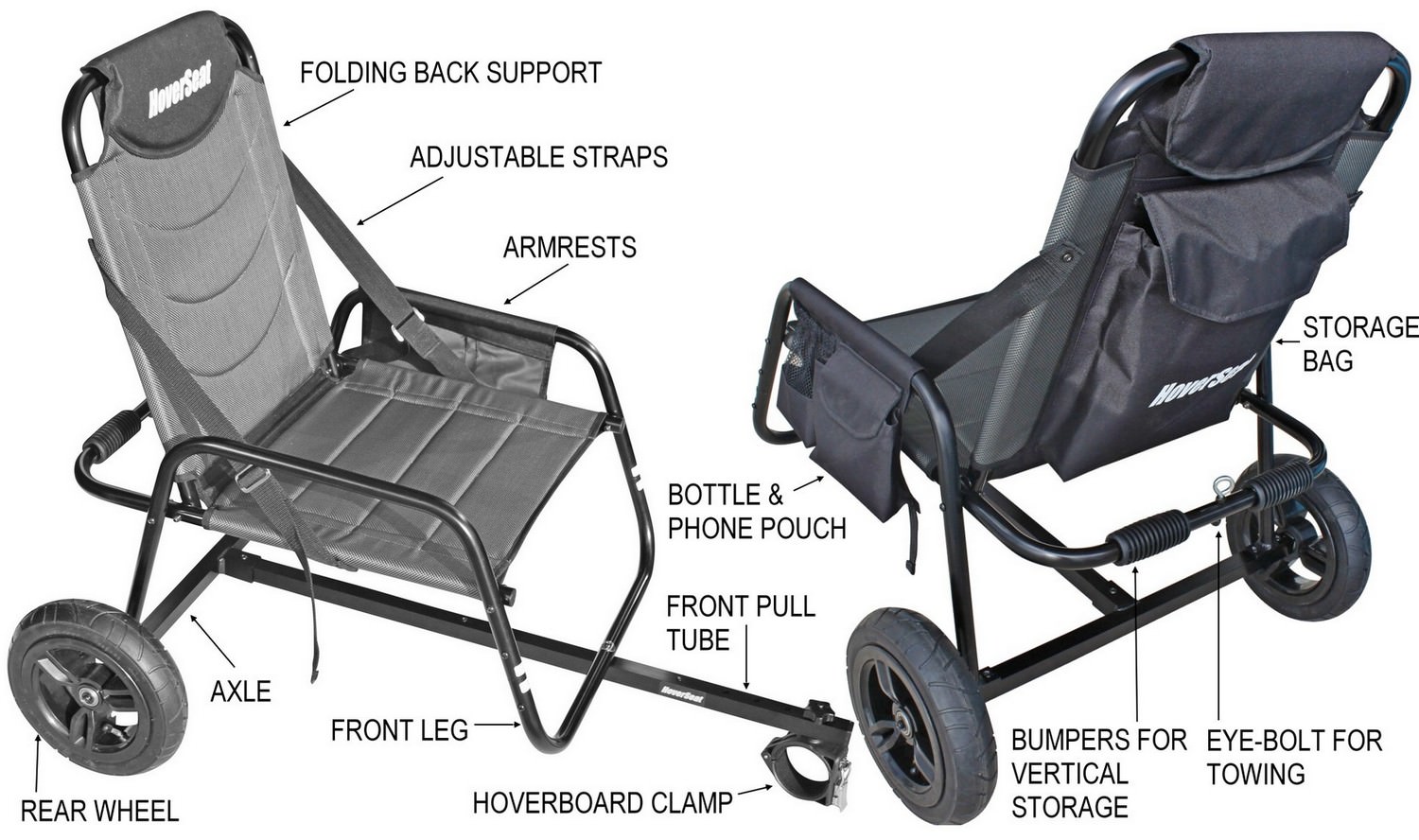 Benefits of HoverSeat XL:
The HoverSeat XL is a light aluminum frame which fits easily in the trunk of the car. When you want to use it, simply attach it to the bar in the center of your hoverboard with the specially adapted clamp, flip up back rest, and you are ready to roll!

HoverSeat XL comes with soft and comfy sport seat with generous back pack storage and armrest side pouch with space for bottle and cell phone. Backrest angle is adjustable for best comfort. Store HoverSeat XL vertically when not in use.

Navigate the hoverboard using only your feet; it can even reverse. HoverSeat XL can be used on or off-road, and can ride over grass, gravel, and packed sand.

Use HoverSeat XL to tow a wheeled cart and then transport bags, boxes, groceries, or use it to transport heavy or awkward tools. The hoverboard cart is even strong enough to pull a kayak down to the beach.

No need to carry your hoverboard ever again: Use HoverSeat XL to transport your hoverboard back home or back to the car when the charge has gone.

Safer than standing on a hoverboard: No more falling off when the hoverboard hits a crack or bump in the pavement. Sitting is far safer than standing.
HoverSeat XL Instructions:
Click on ATTACHMENTS tab to download HoverSeat Manual and Assembly Instructions.
What is included with a HoverSeat XL?
Aluminum frame with 2 ball bearing wheels and Patent Pending HoverClamp.

Deluxe chair built into HoverSeat frame.

Assembly required. Please refer above Assembly instructions.

Shipping size: 36"x20"x4.5". Shipping Weight: 16lbs.

Product weight is 13lbs.

Rider weight limit 180 lbs.



Where to get hoverboard for HoverSeat XL?
For best performance and riding pleasure we recommend 10" pneumatic wheels hoverboard. It provides softer rider over pavement and better off-road capability. You can purchase inexpensive 10" hoverboard on Ebay, or just search Google for 10" hoverboard. Please note that hoverboard must have round middle to work with our clamp.
HoverSeat XL clamp works ONLY with these 2 types of hoverboards with ROUND middle. Will NOT work with Swagtron T2, T3.
WARNING: EXERCISE CAUTION AND COMMON SENSE WHEN RIDING.
The user of this product assumes all risks associated with its use. Rider assumes all risks associated with activity. Make sure the environment is safe for riding. Make sure all bolts are secure. Inspect clamp for cracks or damages. Use all necessary body protectors. MUST wear helmet, knee, elbow pads, wrist guard, exercise full caution when driving, be prepared to stop. Do NOT operate where people or cars might be present. Do NOT ride on slopped areas. Do NOT overload. Do NOT race. Do NOT lift feet of pads while driving. HoverSeat is not disability vehicle transportation. This product should not be used by persons without excellent vision, balance, coordination, reflex, muscle and bone strength or good decision making capability. This product should not be used by minor without adult supervision. This product should not be used by persons unwilling or unable to take responsibility for their own action. To minimize assumed risks, the user must wear helmet, elbow and keen pads and appropriate shoes. Do not operate this product in traffic, wet, froze, oily or unpaved surfaces. Avoid uneven surfaces, chuckholes, cracks and obstacles.
Technical specs
Reviews
Required products